Which means, roughly translated, a gig that wrung the last drops of sweat out of us.
This was my day:
9:30 Interview with Radio Cooperacion. What a great bunch of people. The owner of the station, Fabio Gadea Mantilla, has created a graphic hero, Pancho Madrigal, who is the prototype of the small town Nicaraguan campesino. He is also a candidate for President (why not, we had Reagan).
Here is me and Klaus, our Country Director in Nicaragua, doing live radio. Rush who?
And as a bonus, as we were leaving the studio, ran into an old amigo, Bill Baez, microfinance pioneer from the 70s: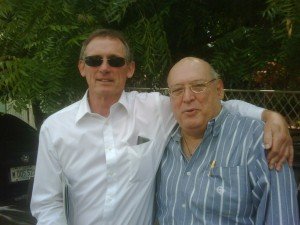 Then did an interview with awesome client, Sonia Maria Alvarez Arguello, going to post as soon as processed.
Finished the day with the inaugration of the Finance Company.
I guess you'd have to say it was a good day
I did not even use my AK
Rupert
---
Share this blog post:
---