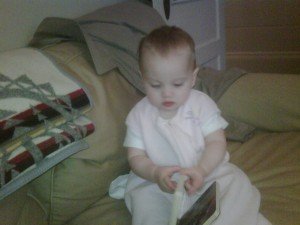 I visited my granddaughter, Lucy, this weekend, here in San Francisco. Lucy turns 1 next Friday. While I am, in general, pleased with her development, I did have some observations during her review, which I passed along to my daughter and son-in-law.
First, while she is reading reasonably well (how do I know this when she still can't speak? Trust me, a Tiger Grand pa knows these things), it's the what she's reading that concerns me at this juncture. By now, she should have graduated from "Pat the Bunny" and "What are you doing, Maisy?" (I've never seen those to on the SAT Verbal) to more serious works, like "Recherche du Temps Perdu" (in the original French, of course) , "Bleak House" and "The Brothers Karamozov". I also don't think it's too early for her to familiarize herself with a dozen or so of Shakespeare's simpler sonnets.
Over my daughter's objections, we experimented with substituting some of these Great Books for the fluff she normally reads. Lucy didn't take kindly to this maneuver, of course, but, as I told my daughter, you need to ignore the screaming for the first three hours, after which she will, trust me, acclimate.
And here's another tip: try withholding the morning bottle when she first wakes up. She will come around when she gets hungry enough.
Another concern of mine was day care – not the facility itself, but the other children. To my knowledge, only two of the other parents were graduates of Ivy League schools. It's never too early to start networking.
As to the music, I switched out the "Twinkle, Twinkle, Little Star" tape from her "Entertainer" wheel and replaced it with the score from Wagner's "Der Ring des Nibelungen". Judging from her expression, it's going to take her a while to develop an appreciation for these classical works, but she can make her own choices when she completes Harvard Medical School.
In the meantime, My Little Lucy will do things The Tiger Grand Pa's Way.
Rupert
---
Share this blog post:
---