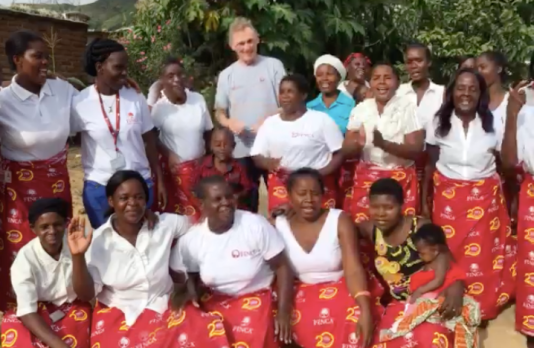 'You can't go home again', so said American author Thomas Wolfe, but I did. Not back to Levittown, Long Island where I grew up, but to Blantyre, Malawi, which I consider one of my 23 other homes, where I founded FINCA subsidiaries over the past 32 years.
The occasion was the celebration of the day, 22 years ago, when we organized the first village banks in Blantyre, with $100,000 from Rotary Clubs in Colorado, led by an orthopedic surgeon named Dr. Richard Kemme, who had a prosperous practice built on the back of the many skiers that flew down the slopes of the Rockies and collided with trees, rocks and most often with each other, breaking limbs.  Dr. Kemme came to Malawi to work on polio victims, but when he learned of FINCA's work in Latin America from other Rotarians he decided he needed to persuade us to bring our small loans to help the women of that country. It wasn't difficult; we had founded FINCA Uganda just a few months before it and was running beautifully, so on one of my trips there I just hopped on a plane from Entebbe to Nairobi and from there down to Blantyre.
In those days, raising money for FINCA was easy, and on my maiden trip I came back with two other big grants, one from the World Bank and one from USAID.   In a week, with Dr. Kemme's help., I recruited a board, hired a director and a credit officer, and organized four village banks.   On this trip, I carried with me the coveted "Silver Tree" award, to recognize FINCA Malawi for having reached 50,000 clients.
Man, it was so easy back then.  Today, microfinance is complicated, we do it through regulated banks and finance companies instead of NGOs, we have stiff competition from other banks, payments companies, telcos, retailers, even public utilities, in some cases.  Our managers mostly come from the banking sector, not the Peace Corps, like me.
I was only in Blantyre for two days, but we packed in the inauguration of our new branch, which is enabled to take savings, a celebration of our 20th anniversary, and, of course, a visit to a village bank.   The Deputy Governor of the Reserve Bank of Malawi was on hand to open the first savings account, which went off without a hitch, except that our core banking system failed to print his receipt.  The entertainment at our dinner was provided by a dancing troupe of convicts from the nearby prison farm.   (They were close to their release dates; that's why they didn't run after the show)  As they danced, you could feel the pent up energy from their years of confinement released into the room.
The village bank was located in a slum on the outskirts of Blantyre, a city which has grown up from the small burg I visited 22 years ago.   The roads through it are dirt and gouged with rivulets from past rains, and gansta rap blares from sound systems in the neighborhood shops.   The women are waiting on a large sheet of plastic so as to not soil their colorful red and maroon dresses emblazoned with the FINCA tree brand.   Considerate of their guest, they face into the sun while I have my back to it.  I ask them to tell their stories.   One woman is a serial entrepreneur; she buys maize at harvest time, stores it and then sells it during the "hungry season" six months later at three times the price.  She also as a general store, and she shows me a blouse that she has hand embroidered constituting her third source of income.   Another woman describes how, with the income from her dried fish business, she has been able to educate her three children, one of whom is now a doctor, another a teacher, and the third a mechanical engineer.   Looking at the humble dwellings with their brick walls and tin roofs, it is obvious what these women's priorities are:  they invest in their children.
But the one I found most interesting is a younger mother the women of this village bank has adopted.  In a departure from our usual credit policy, this woman had no existing business when she joined the group and got her first loan; the President of the group convinced the others to guarantee her loan and told them not to worry; she would mentor her.   It worked, and now this young mother was on her third loan and had a thriving business selling used clothing.   As our SUV rocks back down the dirt road out of town, I find myself swaying to the music blaring the sound systems, Dr. Dre from the sound track from Straight Outta Compton.
This is FINCA:  Straight Outta Malawi.  Financing women micro entrepreneurs in poor neighborhoods around the world, helping them help themselves and their families.   The model is still dead simple, but it works.
Rupert
---
Share this blog post:
---