I got together with 20 of my fellow Peace Corps Volunteers this past weekend, down near the Mexican border on South Padre Island, a 10-mile long sand bar off the Gulf Coast of the Sovereign Republic of Texas. It had been 43 years since many of us had last seen each other, when we disbanded down in Guatemala and departed for our various points of the compass, most returning to the U.S., some remaining in Guatemala.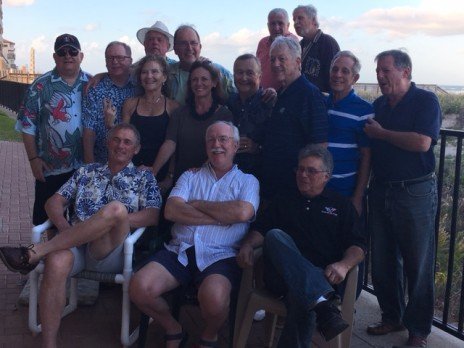 We first assembled in San Jose, California in 1971, a rag tag band of mostly draft dodgers, looking for a way to avoid becoming, as John Kerry put it so eloquently "The Last Man to Die for a Mistake in Vietnam." From there we journeyed down to Colima, Mexico, and then on to Liberia, Costa Rica, where we learned enough Spanish and Agriculture to function in our roles as Extension Agents for the Guatemalan Cooperative Movement. Inevitably, some of us were taken to be Agents of another kind. But our little pueblos were forgiving and soon we became accepted members of the community, and endless fonts of amusement as we tried to adapt our gringo ways to those of a strange but fascinating culture.
We had been separated geographically during our tour, spread over the country in small, isolated towns and hamlets at the terminus of dirt roads or sometimes cow paths where, during the rainy season, no truck or automobile deigned to enter. So it was we learned things about each other we hadn't known during our tours, like the fate of Rico, who abruptly disappeared in the middle of our second year, having fallen afoul of the Guatemalan First Lady when he discovered she had been purloining money donated by Norteamericanos intended to buy bicycles for poor Guatemalan children. I shared the story of the time I was busted and nearly cashiered by the Deputy Director of the Peace Corps for riding my 125 cc Suzuki motorcycle on Pan American highway (prohibido), drunk and helmetless in the pouring rain, having chivalrously lent my helmet to my female companion riding on the back. Jacobo recounted his high-speed collision with a toro that had broken free of its bonds en route to the slaughter house, horning Jacobo off his motorbike with the skill of a jousting Knight in Days of Olde.
There were solemn moments as well, as when we gathered on the beach to pay homage to the three empty saddles, comrades who had passed away, two from AIDS and one from cancer. There had been marriages, children, divorces, remarriages, career changes, spiritual awakenings, terrible accidents, and, common to all, the trauma of readjusting to American society after two years in a tropical paradise where we lived on the level of the poorest people on earth, coming to respect what it takes to survive when the hand you're dealt is all Clubs and no Face Cards. We never felt so alive.
There were also reminders of the cruelty and injustice of Guatemalan society, where a cultural divide between the mixed blood descendants of the Conquistadores, called Ladinos, and the indigenous Mayan people, with whom most of us worked, spawned incandescent hatreds such as only the twin bellows of racism and ignorance can engender. All this tension and antipathy exploded in the 80s, when Guatemala, like the rest of Central America, was consumed by a vicious civil war. In the aftermath, when I visited my town of San Martin, Jilotepeque, I found a place where everyone had forgotten how to smile. I heard horrific stories of entire villages being annihilated by gunships emptying their twin fifties into anything that moved.
The last night we gathered in Sapo's flat and watched three disks of slides, pictures of our former selves, barely recognizable in some cases, wearing the youthful grins of those who have their whole lives ahead of them, with no inkling of what the future would hold, fearless and suffused with optimism.
A great American writer, Thomas Wolf, once said "You can't go home again." But for one glorious weekend, we did.
Rupert
---
Share this blog post:
---